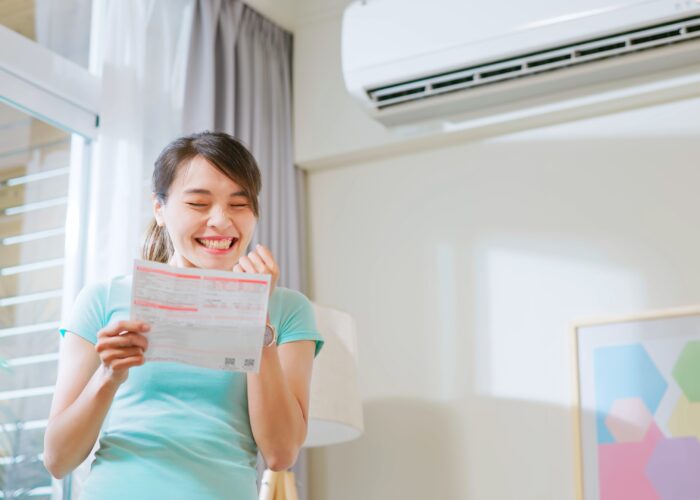 With temperatures rising in the UK, many of you may be looking for the perfect way to stay cool in your homes. 
Naturally, you may look to air conditioning to save money on energy bills. Air conditioning systems are a perfect way to regulate the right temperature in our homes. 
Installing a new air conditioning system may seem like a big investment, but changing your air conditioning unit can save you a significant amount of money. 
Once you have all the right information you need, you'll be able to lower your energy consumption and save on energy bills with ease. 
Firstly, let's look at how air conditioning works.
How Does Air Conditioning Work?
Air conditioning works by removing hot air from the inside of your home and releasing it outside. It then releases cool air back in to the same room. 
An air conditioning system works in the same away as your refrigerator. Heat is absorbed inside the unit, and then removed from the room. 
How to Save on Air Conditioning Costs
Although climate change is already placing a burden on our electric prices, there are several ways to save money on energy bills.
Upgrade or Cover Your Windows 
Covering your windows can reduce a large amount of heat heading into your home.
Solar screens or mesh like windows can intercept the heat coming from outside before it gets into your home. 
Solar screens can reflect the sunlight even when your windows are shut. This can be a huge money saver, and allow your air conditioning unit to work at its maximum rate. 
Install a Thermostat
If you haven't already, it might be time to install a new thermostat. 
Switching to a smart thermostat will allow you to set to adjust the temperature in your home at any time of the day. 
Clean Your Filters
In order to maintain and keep your air conditioning system healthy, cleaning it regularly can prevent a large dust build up in the vents.
Dusty filters disable your system from working effectively which can lead to you using more electricity. 
Cleaning an air conditioning filter can help you reduce the energy output and save you a great deal of money on your bills. 
Enhance Your Home's Insulation 
If your home isn't properly insulated, you may be paying more for your home air conditioning. 
Air can be lost throughout your home in walls, crawl spaces and even your attic. So insulating your home efficiently will allow you to maintain the right temperature in your home. 
Ensure Regular Servicing 
Regular serving can help you maintain the efficiency of your air conditioning unit. 
Air conditioning repairs may be necessary to ensure your system is running as efficiently as possible. 
Replacing necessary parts when needed can ensure your air conditioning system lives longer and maintains an ambient temperature in your home. 
Turn it Off When You Leave
While its nice to come home to a cooled down home, it can increase the costs of your energy costs.
Turning off your air conditioning when you leave your home and keeping your windows closed can help you save on energy bills. 
It can also prevent your home being too hot and regulate the right temperature.
Get advice on air conditioning costs
By understanding how to save on air conditioning costs can save you a lot of money on your electricity bill. 
At JustAircon.com, we can speciliase in all things air conditioning. Our team of experts are all F Gas registered and can provide you with the skills needed to maintain the efficiency of your air conditioning unit. 
All of our air conditioning services are affordable, with transparent pricing and deliver top quality results every time. 
Get in touch if you'd like more information about on air conditioning tips to save energy in London.