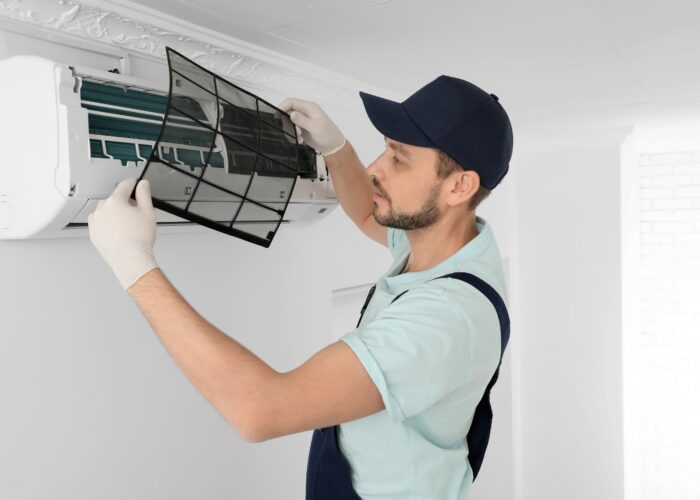 Air conditioning systems are fairly low maintenance. But if you want to make sure your system is working as efficiently as possible, it's always worth getting it serviced regularly. 
Our advice on how often a system should be serviced varies depending on how much it's used, but it's a good idea to plan for your air conditioning system to be serviced by an engineer at least once a year. 
Take a look at our guide to air conditioning servicing to find out more about the benefits of servicing your air conditioning. We'll explain how frequently you should have the system serviced, what a service usually entails and what you need to look out for in terms of warning signs. 
How often air conditioning systems need servicing 
Air conditioning systems should be serviced annually. This will ensure that all parts are working perfectly and there are no problems within the system. 
While it's easy to put off a service if your air conditioning appears to be working well, we recommend that it's serviced even if there are no noticeable issues. If your system is serviced before a problem arises, an engineer will be able to pick up on potential issues before they start causing damage to your units. 
It's always a good idea to book a service before you need to use your air conditioning, so you won't have to turn it off in the height of summer. Book in your service during the colder months to make sure your system is in perfect condition ready for the hot weather. 
Why you should get your air conditioning serviced 
An air conditioning service will ensure your system is running as efficiently as possible, in turn keeping electricity bills as low as possible. Not only will you save money in running costs if your system is working well, you'll also extend its life, meaning significant cost savings in the long run too. 
As part of your service, an engineer will check parts such as the blower, motor and coils. The engineer will see how the system is running, making sure the room is being cooled properly, and in the expected amount of time. 
The engineer will check electrical connections are working as they should. Parts such as the air filter and ducts will be thoroughly cleaned to remove any debris. During the service, parts will also be checked for any wear and tear. The drainage pipe will also be checked for any debris that could've built up there. 
Signs your air conditioning is in need of a service 
We always recommend that you get your air conditioning system serviced whether it's displaying any warning signs or not, but if it is showing signs then it's best to book in a service as soon as possible.
If your air conditioning system isn't working as efficiently as it normally would, or it's not switching on at all, you'll definitely need to call in an engineer. 
Other signs to look out for include the thermostat not working correctly, or loud noises coming from the unit itself. If the system is blowing warm air, or you can smell a strange odour, it's also worth getting an engineer in to take a look. 
You might have noticed that there's not enough humidity being removed by the system, or you're experiencing issues turning the system on and these issues are happening more frequently. In any of these cases, a service should be able to resolve any issues and get your system working perfectly again. 
Talk to us about air conditioning servicing 
At JustAircons.com, we specialise in all things air conditioning. 
Our team of fully qualified engineers are all F Gas registered. And we've got the skills and experience to carry out any servicing and maintenance tasks your air conditioning system might need.

Our air conditioning services are affordable, with transparent pricing and top quality results every time. We travel all over London, so we can come to your home or business at a time that's convenient for you.
If you'd like more information about our air conditioning services in London, just get in touch.