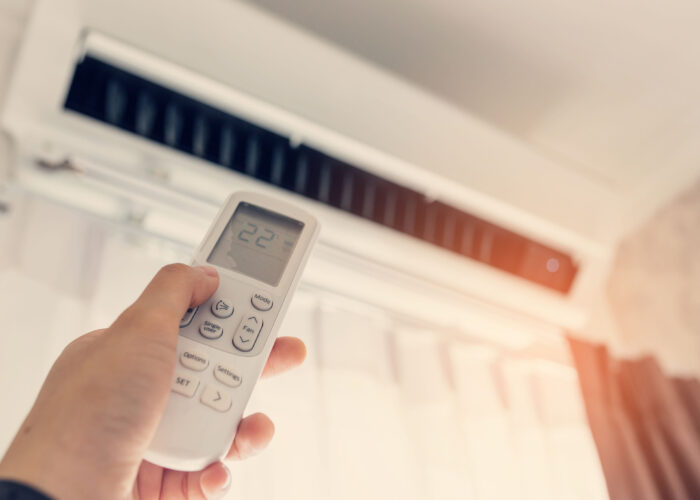 Air conditioning can make all the difference in offices, particularly when you and your team are working through those long, scorching summer days. If you're considering investing in a new air conditioning system, or you're looking to upgrade your existing air conditioning unit, there are a few things you'll need to think about.
Choosing the right size unit for your requirements is enormously important. You'll also want to make sure you pick the right system for the building itself, and you'll need to check that the cooling capacity of your chosen unit is up to the task. So, before you dive into a purchase, take a look at our guide on how to choose the right size air conditioning unit for your office.
Once you have all the information you need at hand you'll be able to choose the most efficient unit for your space, keeping everyone cool and comfortable all summer long. Here's everything you need to know.
Choose an air conditioning unit designed for your office size
Both the size of your office and its layout will have a bearing over how well your air conditioning unit performs.
The first thing you need to do is measure the dimensions of your office space and work out its square footage. And don't just think about floor space here – the ceiling height will also have a big impact on the power of your air conditioning.
Use the size of your office space to filter through air conditioning options to see units that have been designed specifically for offices of a similar size. Choose one of these and you'll find the unit performs far more efficiently than one that had been created for a smaller space.
Don't overlook the layout of your office
Now it's time to think about the layout of the office. If it's a vast, open plan space, it will of course have quite different requirements to a large-scale office of long corridors and separate rooms.
If the layout of your office is complex, covering a number of different meeting rooms and work spaces, you might find that a number of smaller units would be a better option than a single, more powerful one.
The capabilities of different air conditioning systems vary quite significantly, so it's also worth thinking about how you'll want to use the air conditioning once it's set up. If you'd like to be able to set different temperatures in different zones, you'll need a system that's built for this functionality.
Think about different unit styles
There are many different air conditioning units out there, all of which have their own pros and cons. But not every unit will work in every building.
You'll need to think about how you'd like your air conditioning unit to be installed and how much space you have for both the unit itself, and any pipework you might require. Often, offices will already have ductwork that can be used for air conditioning, but if your building doesn't yet have this you may have to check whether you have the required permissions to install ductwork, and factor in the cost of this work.
Take a look at our guide on how to choose the right type of aircon to find out more about all the different options.
Staffing and occupancy levels
It's not just the size of the space that'll affect how hard your air conditioning needs to work. The number of people working there will also have an impact on what the system is up against. The more people you have working in your office, the more heat there'll be. The air conditioning unit will therefore have to work harder to cool the space down.
Most offices expect to see similar staffing levels each day, and far fewer during the weekends. But if your office is more flexible and you have more staff working from home on certain days, you may need your air conditioning unit to provide greater flexibility too.
Some units can be programmed at different temperatures on different days, so no one will need to worry about adjusting the settings when there are fewer staff in. Bear this in mind if you have a full office one day and only a few team members at their desks the next.
—
If it's already getting too warm in your office and you're starting to dread the rising temperatures of the days and weeks ahead, now's a great time to get your air conditioning installation booked in.
Talk to our team about what you need. We'll be able to advise you on the best units for your requirements and book in a convenient time to come and visit your office. We install and manage air conditioning systems all over London and we're only a phone call away. Get in touch to find out more.