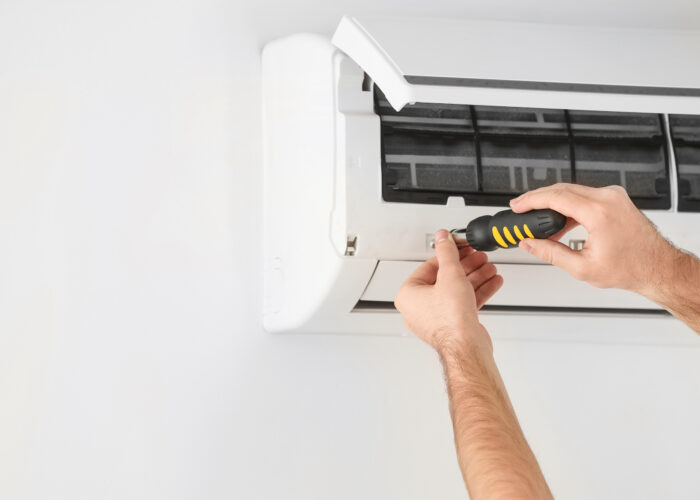 If you find yourself with no air con in the height of summer, your first instinct might be to reach for the phone and call in the professionals. But did you know that there are plenty of simple fixes that you can try yourself? 
We have a guide on the tell-tale signs your aircon unit needs a professional repair. In this article, however, we'll take you through some easier fixes that you can try yourself. Of course, if you'd rather leave it up tp the experts, we're always on hand to help.
How to repair a broken air conditioning unit: Four quick fixes to try at home
You don't need to be a skilled air conditioning engineer to fix many of the most common problems that stop units working. Here are a few things that you can try if your aircon has become inefficient or stopped working completely. 
Check the power 
It might sound obvious, but you'd be surprised how many people fail to check whether a power fault might be causing their air conditioning problems. Before you resign your unit to the bin, make sure you check its power supply. 
Sometimes, power can be interrupted by a fault that isn't immediately noticeable. Look out for blown fuses and tripped switches that could explain the outage. If you find a problem with the power supply, the good news is that it'll be quick and easy to fix, and your unit should be back up and running in no time. 
Look out for blocked filters
All air conditioning units require maintenance from time to time. This includes cleaning the filters. If filters haven't been cleaned for a while, this could well be the cause of your failing air conditioning. 
Take a look at your manufacturers' instructions on how to remove the filters from your unit, then check whether or not there's a buildup of dust and dirt on the filters themselves. If there is, you'll need to clean the filters thoroughly in accordance with the manufacturers' guide, before refitting the filter and turning the unit back on.
Some air conditioning units have filters which can't easily be removed for cleaning. If that's the case for your unit, it's worth calling a professional to check what to do next. An engineer will be able to advise you on whether it's possible to clean your filter, or whether it might need to be replaced with a new one. 
Take a look at your outdoor condenser unit 
If your air conditioning is linked to an outdoor condenser unit, then that's another thing you'll want to check if you're experiencing problems. Condenser units that are housed outside the building can easily become blocked with dirt and debris. Sometimes, something as simple as a build up of leaves can cause issues. 
Head outside and take a look at your condenser unit, keeping an eye out for any blockages as you do so. If you do spot anything, simply clear it out by hand and you'll soon be able to get far more air flowing into the system. Once you've cleared the blockage, head back inside to see whether it's made a difference to the temperature indoors. 
Check the thermostat
Sometimes an air conditioning unit will start behaving strangely, despite there being nothing actually wrong with the unit itself. In these cases, it's usually down to the thermostat. 
If a thermostat is broken, its communication with the air conditioning can be interrupted. As a result, the air conditioning unit might start raising or lowering temperatures at inappropriate times, due to incorrect readings being transmitted by the thermostat. In some cases, the thermostat could just stop controlling the air conditioning unit entirely. 
Thankfully, it's not too difficult to check the status of your thermostat. Have a look at the unit, ensuring that its power supply is working properly and that it is set to the correct temperature. 
If you notice that the reading on your thermostat is wrong, or the thermostat is unresponsive when you attempt to alter its settings, you may have found the culprit for your air conditioning woes. Issues like these can sometimes be fixed by something as simple as changing the batteries in your thermostat. But if you can't see what's causing the issue, it's worth getting in touch with a qualified heating engineer who will be able to assist you. 
Tried everything you can think of? Then it's time to call in the experts! 
If you've tried all of our suggestions and you're still struggling to get your air conditioning unit working properly, just give us a call. 
Our team of skilled engineers work with all kinds of air conditioning systems all over London, in both domestic and business settings. We'll arrange to come and visit your property at a time that suits you, and we'll be able to assess what needs to be done to fix the problem. 
We provide a full range of aircon repair, servicing and maintenance options. Our team manages complex air conditioning installations, as well as repairs whenever you need them. All of our air conditioning engineers are F Gas registered, and we promise the highest quality results with fully transparent pricing. If you'd like to find out more about what we do, get in touch.